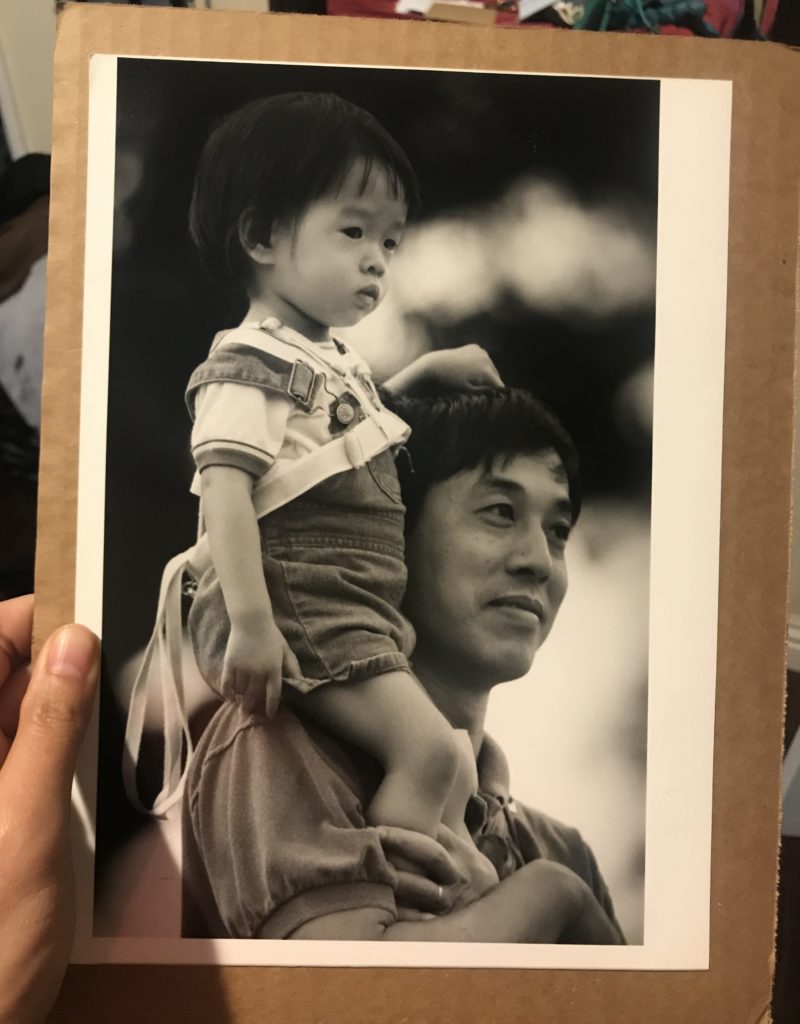 My mom found this photo of me and my dad taken by a Houston Chronicle photographer. It was on sale on Amazon as a historical document, so of course I had to buy it. I was 1 year old in this photo and my dad was 38. It was before our personalities got in the way of our relationship. I envy and adore this photo. It's a window to a time where our love was pure and innocent.
For those of you who don't know. My relationship with my dad has been difficult. It has always been hard for me to feel like he truly cares about me and loves me. Our conversations are often battles between what he wants and what I want. We don't see eye to eye on anything and our connection is thin and fickle. We don't have shared interests, we are both stubborn and we don't talk. In fact I have always questioned his love for me, because there have never been gifts or emotional support or encouragement. Only coldness and controlling. Always telling me what to do, how to be, and where to go. My life has been wrought with this craving for validation from him, working hard for it, but never receiving anything as simple as, "I'm proud of you." I left Houston, in part, to get away from him and have spent the last 7 years trying to untether myself from needing his praise.
But a few weeks ago, I was driving and suddenly it hit me. My dad has loved me this whole time. From age 1 to now, the only difference is my perception and my ability to receive the way he shows his love.
He never hugged me or gave me forehead kisses. He isn't one for words. But he has stayed loyal to our family, tried to protect us, provided for us, and supported us through school. He tries to steer me in a direction he thinks is best for me. For those things, I am and have been trying to be grateful for. His intention is pure, though the result was not helpful. I've had to spend time and intention distancing myself from him, and now unraveling all the inner conflict, I can see that he tried his best. And that his love is simply the only way he knows how to love.
I was blind by what I wanted in a father – affection, kind words, support for my own independence and ability. I held him to this expectation of what a father "should" be. But if I am really to let go of my hurt, then I have to let go of my judgement. This whole time he has been trying, and I can only see and judge him for what he is not. I have been holding him up to be what he will never be. So I have to let go of those expectations in order to let go of my pain.
My pain was that he wasn't affectionate, and that he never said I love you. What is love if you don't say I love you? Well it's driving us to band practice, working hard to pay the bills, and telling me that I should go back to work and forget my dreams. In his world, love is telling me to do what he thinks is best for me, even if it doesn't involve happiness. He loves me in his own way, and though we disagree, I can no longer fault him for trying. For loving me the only way he knows how. I have been creating and holding on to this pain for so long. It was a huge breath of fresh air to know that I could just release it and allow us to be in two different worlds both trying to love each other.